PhoniexBlue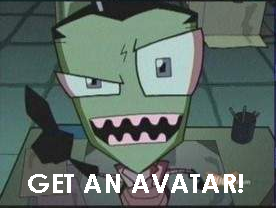 PhoniexBlue
Member






Posts

: 2


Join date

: 2011-01-08


Subject: Awesome Hellos! Sat Jan 08, 2011 11:12 am

---

Hi there. I'm brother of Clamshot and thecutegirl123 on this forum. I'm a twin of Clamshot, not too much like him luckily. If I was too much like him I would also get banned.

I'm a fan of Zelda, and I sort of like Mario. My favorite character on Invader Zim would of course be Gir. The cute little creature! I also love the show Fish Hooks about fish that live in a fishtank at a pet store and sometimes go on adventures around the pet store with watersuits.

Bring it on with the word Welcome!
InvaderTam
InvaderTam
Admin





Posts

: 838


Join date

: 2010-02-26


Age

: 23


Location

: Netherlands


Subject: Re: Awesome Hellos! Sun Jan 09, 2011 1:19 pm

---
Invader Zo-e
Invader Zo-e
Admin





Posts

: 832


Join date

: 2010-01-26


Age

: 19


Location

: Connecticut, USA


Subject: Re: Awesome Hellos! Sun Jan 30, 2011 11:12 am

---

Welcome to the forums, hope you have a nice stay. :3
Sponsored content
Sponsored content

Subject: Re: Awesome Hellos!

---