Clamshot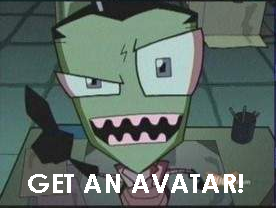 Clamshot
Member






Posts

: 128


Join date

: 2010-08-11


Subject: Poke the person above you Tue Oct 26, 2010 6:12 pm

---

First someone posts.

Next, someone else posts saying that they poked the last person that posted in this thread for a fake reason, anything you want to. It can be anything, no matter what funny or not, stupid, it's okay.

Then it goes on.


No one posted yet, I poke myself because I was the 11th member to register!
Invader Zo-e
Invader Zo-e
Admin





Posts

: 832


Join date

: 2010-01-26


Age

: 19


Location

: Connecticut, USA


Subject: Re: Poke the person above you Wed Oct 27, 2010 11:49 am

---

*pokes because I'm thirsty*
InvaderTam
InvaderTam
Admin





Posts

: 838


Join date

: 2010-02-26


Age

: 23


Location

: Netherlands


Subject: Re: Poke the person above you Wed Oct 27, 2010 3:09 pm

---
Invader Zo-e
Invader Zo-e
Admin





Posts

: 832


Join date

: 2010-01-26


Age

: 19


Location

: Connecticut, USA


Subject: Re: Poke the person above you Fri Oct 29, 2010 5:59 pm

---

*pokes because I saw a hyena today*
InvaderTam
InvaderTam
Admin





Posts

: 838


Join date

: 2010-02-26


Age

: 23


Location

: Netherlands


Subject: Re: Poke the person above you Sat Oct 30, 2010 3:24 pm

---
Invader Zo-e
Invader Zo-e
Admin





Posts

: 832


Join date

: 2010-01-26


Age

: 19


Location

: Connecticut, USA


Subject: Re: Poke the person above you Sun Oct 31, 2010 9:19 am

---

*pokes because I lol'd*
Sponsored content
Sponsored content

Subject: Re: Poke the person above you

---